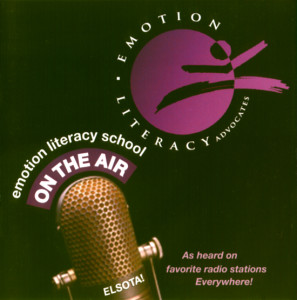 ELA received an endorsement from the Seattle Public School District's health education director who requested ELSOTA!'s 5-episode CD with 16-page study guide be made available to every health education teacher in the district.
ELSOTA! is a wonderful, innovative tool—Emotion Literacy Advocates has created a fun, creative way for teachers to talk with students about their feelings. There is application in social/emotional health subjects as well as substance use prevention, family life and relationships, injury prevention and safety, disease prevention and control. After observing some of this material in action, I can unequivocally say this teaching tool is of great value in the classroom.
—Lisa Love, Health Education Director for Seattle Public Schools
Each of ELSOTA!'s 5-minute audio episodes uses a combination of artistic elements including dramatic monologue, rhythmic prose and comedic vignette coupled with scientific data, theme music, sound effects and recurring characters. Each episode vividly demonstrates new ways of thinking, talking about and viewing emotion in the context of personal relationships and familiar circumstances.
ELSOTA! episodes have aired during interviews with Pamela Sackett on Seattle's KISS 106.1, 96.5 The Point, "Teen Talk" on KKNW 1150 AM, KMTT 103.7 The Mountain, The Warm 106.9's "Exceptional Women" and "Northwestern Exposure," a regionally syndicated public affairs show.
ELSOTA! is designed for direct use by individuals, groups, mental health facilities, broadcast venues and educational institutions looking for creative, interactive materials for self and social awareness for communication skill-building.
ELSOTA! is such a useful program. It provides much needed tools for identifying feelings that have been unknown and then learning constructive ways to understand them. The examples given are clear and helpful. I would definitely suggest the use of ELSOTA! to my clients.
As a couple, we found that listening to the episodes and then using the study guide helped us identify feelings in some challenging situations and find words to put to the feelings. This was an enjoyable, enlightening process.
—Judith Waldman, LCSW-C, Psychotherapist
For information on how to join the list of radio stations who have used ELSOTA! vignettes for lively public affairs programming or for underwriting opportunities in support of our emotion literacy awareness campaign, contact ELA.
*Update: ELSOTA! was released in 2002…more information and a sample audio clip can be seen here, along with a wide range of ELA resources.